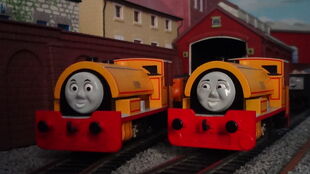 Bill & Ben are two mischievous yellow saddle tank engines on the NWR, They currently work at the China clay pits on Edward's Branchline.
Bio!
Bill and Ben were built W.F. Bagnall alongside Alfred and Judy in 1948 and bought from The Fat Controller in 1966 to help work at the china clay harbour at Brendom docks. The twins have had many advents on there time on Sodor like playing tricks on Workmen, Teasing big engines that are in Gordon or have took there BoCo, Rescuing Workmen from a rockslide and saving one another from certain disaster.
Persona!
Bill and Ben are cheeky, sneeky, hard-working tank engines, Like many twins there play, work and sometimes argue together but despite this Bill and Ben are cheerful and are very proud to working on Sodor!
Appearences!