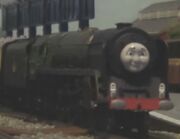 Duke of Gloucester also known as The Duke is a famous preserved engine that worked on the other railway many years ago.
Bio
Duke of Gloucester was built in 1954 as a replacement engine after Princess Anne (A modified LMS Princess Royal class) was involved in a terrible accident in 1952.
Although he had good intentions he suffered from being a poor steamer and using too much coal.
Persona
Duke of Gloucester is kind engine and likes to get along with any engine but he's not afraid to speak his mind if someone is being rude towards his friends.
Appearances