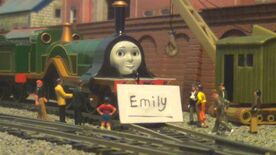 Emily is a dark green engine that is one of last remaining members of her class and currently works on small passenger or goods trains on the mainline.
Bio
Emily was designed by Patrick Stirling and built by Doncaster Works in 1883. Once on GNR she handled the fast passenger and freight work until being replaced by bigger and more powerful locomotives (GNR C1 Atlantics) in 1898. Then in 1961 (being the only one of the class still in service) Emily was withdrawn and then purchased by the Fat Controller who took her to Sodor.
Later she took the flying kipper for Henry when his fire bars collapsed she was over confident and got herself in accident on Gordon's Hill. When at the works Murdoch came to comfort and tell her that: We do live and learn in the most uncomfortable situations.
Persona
Emily is a strong engine that has a good heart but she be overconfident and boastful.