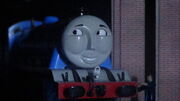 Gordon is a blue express engine and is one for the fastest engines. He currently pulls the Wild 'Nor' Wester but can sometimes be seen taking trucks.
Bio
Gordon was built at Doncaster Works by Sir Nigel Gresley in 1922 as an experiment 'A0' Pacific and was finished with A1 fittings after being sold to Sodor in 1923. Soon in 1939 Gordon was rebuilt when he to Crewe and had many new parts. Some were even designed by The Fat Controller himself.
Gordon was ordered by the signalman to help a stranded train (which was being pulled by D261 at the time) to Barrow-In-Furness.
Later Gordon had to cover Henry's trains while he was away being mended Spencer (who was also to cover Henry's trains) Chuckled at Gordon's dilemma and then boasted about his class for not taking goods trains Gordon when said that Mallard once pulled trucks and found it rather nice Spencer just sniffed and puffed away leaving Duck to sooth the big engine!
Later he became a replacement banker for Edward he was helping Salty at The Docks and teased James after having a accident with some buffers.
Persona
Gordon is pompous, proud and rather boastful. He can brag about being the fastest and strongest to pull the Express, Despite his proudness he has a soft side and is not afraid to show it too. Especially to the younger engines.