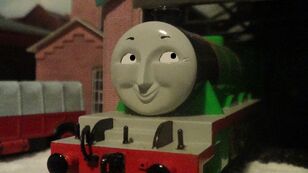 Henry is a Green mixed traffic engine, He is one of well behaved there. He currently takes The Flying Kipper every night.
Bio
Henry had many changes in his life. He built as a cross between a LNER A1/A3 and GNR C1 Atlantic in 1919, The building plans for him were stolen from Sir Nigel Gresley and the design became a failure, In 1920, Henry was sold to The Fat Controller who at the time was desperate for another loco. Later in the years Henry was suffering from the bad coal and his small firebox did not make heat efficiently but when Welsh Coal was ordered from GWR, Henry started to feel so happy and his performance improved as he took a passenger train. Henry then got into a horrific accident one night at Killdane with the flying kipper and suffered many damages, The Fat Controller sent Henry to Crewe where he was rebuilt as a Stainer 'Black 5' and was delighted to come home with crowds of people cheering for him.
Henry was present at the sheds when Duck told about the return of a familiar green diesel. When his fire bars collapsed he gave Emily some advice about the kipper but Emily just wheezed steam and thundered away. While he was still at the works being mended Gordon and Spencer had to cover his trains.
Persona
Henry is smart, well behaved and wise, But sometimes can be vain and slightly arrogant, he's a hard worker all the same. He also loves forests and tries to prevent anyone from wreaking them.