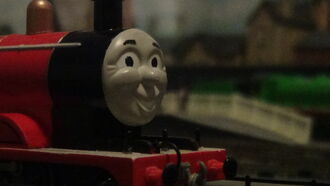 James is a red mixed-traffic engine, He currently pulls stopping trains and slow goods. Sometimes he can be seen pulling the express when Gordon is ill or away.
Bio
James was built in Norwich Works in 1912 and was painted black, in 1923 he was sold to The Fat Controller and got pushed by some trucks while taking a goods and landed in cow field. Thomas then came to the rescue and took him back to the yards where The Fat Controller decided to have James fixed with proper brakes instead of the troublesome wooden brakes in addition with a new coat of red paint. James then returned from the works and had a little incident with some coaches, crashed into some tar tankers and got stung by bee while waiting at a station.
Later he grumbled about the too much work and wasn't happy when the spare engine who was sent to help turned out to be D261!
Then he took some of last few vans of the flying kipper that was being pulled by Emily.
Persona
James is vain, boastful and rather proud of his splendid red paintwork. He hates pulling trucks and thinks that coaches look more nicer behind a red engine, sometimes he is not afraid to show his soft side and can be very helpful and apologetic if he has caused trouble of any kind.