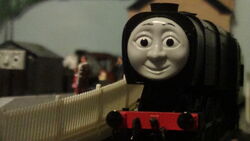 Neville
Number: 33010
Class: SR Bulleid Q1
Designer: Oliver Bulleid
Builder: SR Brighton Works
Built: 1942
Configuration: 0-6-0
Neville is a black tender engine.
Bio
Neville was built in 1942 and was used in the second world war to take passengers and goods all over the UK. He later survived into BR days taking coal trucks, and in 1964 he was withdrawn and saved from scrap by two people called Abby and Ryan who would later become his driver and fireman for years to come.
The Fat Controller brought Neville to help out on the mainline but on his first day Arry & Bert made fun of him on how silly of a steam engine he is. Thomas thought that Neville was laughing with the diesels and so told the other engines about it until Toby releveled that it wasn't true and Thomas chased after him when he was heading for a damaged bridge and Neville came off the track, tittering on the bridge. Thomas soon rescued him and he and the others apologised for the rumours and made him feel part of the family.
One day Neville had took a goods to the docks and then had to take cattle trucks full of sheep which Neville was afraid of, when he came to a station the door on one of cattle trucks came loose and the sheep came running out towards him. his crew took them back to the trucks and tried to calm Neville but it was no good until he told Derek all about his fear and the diesel helped him all the way back to Wellsworth.
Persona
Neville is one of friendliest engines you could ever meet if not cheeky, he loves to make anyone feel welcome but can feel hurt if engines call him names or make fun of his looks. In addition he can also feel uneasy with certain tasks like taking trains he's never pulled before and having to deal with his deep fear of Sheep and other animals.
Appearances