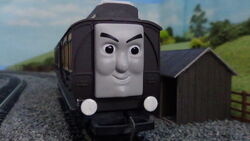 Old Slow Coach (also known as Julie) is luxury brake coach on the NWR, She id used to carry workmen for any repairs but can be seen with the breakdown gang.
Bio
Old Slow Coach was built by the GWR in 1893 and was used for small stopping trains until in 1930 she was withdrawn from service and sent to The Sodor Ironworks to be broken up and melted down but after the workmen's hut was destroyed by a fire, Thomas and Percy suggest that Old Slow Coach would be perfect for workmen and when Percy's crew phoned The Fat Controller who agreed with the idea Old Slow Coach was restored and used of the workmen until the hut was rebuilt.
Later on after the rebuilt she was became part of Mrs.' Kyndley's daughter good luck package as the old item.
Persona
Old Slow Coach is old, friendly and can be rather shy if anyone teases her about how old she is, Despite this she is proud to be restored and tries to live each day as an invaluable assent to the railway!