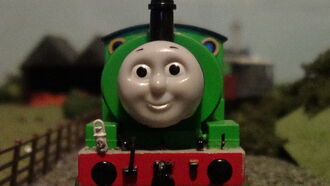 Percy is a small engine who handles the good trains on the Ffarquhar branch with Thomas, Toby, Mavis and Daisy. He is one of the youngest engines.
Bio
Percy was built by Avonside Engine Company, He first came to Sodor in 1935 when the Big Engines went on strike about extra work. Edward show him around, Percy learned very quickly as he worked and when Henry came out, He whooshed steam at him cheekily, Henry jumped and went back to the sheds.
Percy soon found himself feeling overworked on the branchline and started to take his anger out on his friends.
Persona
Percy is kind and helpful who is cheeky and a bit naive but can still keep busy. He is close friends with Thomas, Toby, Duck and Oliver.