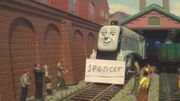 Spencer is a privately-owned engine from The Other Railway and is Gordon's cousin. He is one of the fastest engines there and currently visits Sodor from time to time.
Bio
Spencer was built by Sir Nigel Gresley in 1937 and worked along side his brothers on the LNER, In 1978 Spencer was brought privately by the Duke and Duchess of Boxford when he was going to withdrawn. Spencer arrived on Sodor when the Duke and Duchess visited but only got himself in a pickle when he ran out off water on Gordon's hill!
Apon one of his visits Spencer takes The Flying Kipper one night and wasn't to pleased to do so as he'd shake off the red tail lamp!
He was later mentioned by Salty when Gordon had to take the kipper.
Persona
Spencer is pompous, arrogant and considers himself to above other duties like shunting, pulling trucks ect.