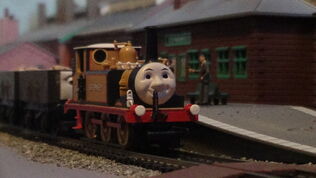 Stepney is an enthusiastic and cheerful tank engine that was saved from scrap and now works on the Bluebell Railway.
Bio
Stepney was built by LB&SCR in 1875 then later rebuilt in 1912 and worked on passengers services until withdrawal in 1960. That same year Stepney was founded by Bernard Holden MBE and arrived on the Bluebell Railway.
Stepney then came to NWR in 1963 to work at Tidmouth with Duck until being sent to Thomas' Branch Line, only to have cricket players chasing him for their ball, which landed into one of his trucks. Upon his visit D261 got an inspector's bowler hat stuck in his air intake and the Fat Controller wasn't too pleased so told Duck and Stepney to take the train. Later Stepney then went back to the Bluebell Railway.
Soon Stepney was sent to Sodor again to help at the Ffarquhar Quarry with Toby and Mavis and then made a deliver of stone for the workmen. He soon lost his way in the fog and found himself at the scrapyards where two diesel shunters took him to a smelting shed where a huge grabber was waiting for him.
Just as it was about to grab hold of him the Fat Controller saved him. Stepney puffed out of the scrapyards and back to the Bluebell Railway, hollering, "Bluebells forever!" as he departed.
Persona
Stepney is a cheerful, enthusiastic, honest, and optimistic tank engine from the Bluebell Railway that loves adventure and living his life to the fullest.