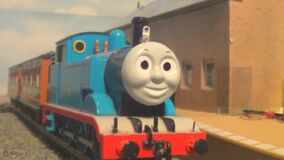 Thomas is a blue tank engine and is one of cheekiest there. He currently runs the Ffarquhar Branchline with Percy, Toby, Mavis and Daisy.
Bio
Thomas was built at Brighton Works by L, B, Brillington and started his life as a station pilot on Sodor in 1915 until 1945 he was transferred at Wellsworth. but James had an accident with some trucks, Thomas came to the rescue and as an reward The Fat Controller give Thomas his own branchline with his two coaches Annie & Clarabel.
Thomas was present in the yards when Gordon raced with a sulky green diesel in tow.
Appearances
Thomas is cheeky and fussy but as a good heart. He also brags about his superiority to the railway and loves to tease the other engines including Gordon.