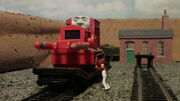 Thumper is a Red quarry machine that works all the clay mines and quarries on Sodor.
Bio
Thumper was brought to the island to help collect rocks faster at a new quarry but after a incident with a massive boulder he wasn't used for a long time until The Fat Controller decided to restore him and use him for multipurpose use in quarries and clay mines.
But engines and people seem to stay away from him and say that he's prone to cause accidents until he bravely saved the clay pits from a runaway Ben and his trucks then everyone wanted to hello and asked how he stopped a dreadful disaster.
Persona
Thumper has a content and cool attitude, he enjoys collecting rocks for the quarries and Clay mines but he can be easily be put down if someone stay away from mine.